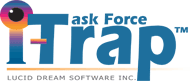 Features:
• Raster-Based
• Traps PS, PDF & EPS jobs
• I-Link Plugins enabled
• Miter trapping
• Special Image trapping
• Spot Colour Support
• Trap Colour Reduction
• Special Black Handling
• Trap On Fly preview
• Ink Remapping tool
• Graphical Configuration Tool
• User Trapping parameter sets
• Client-Server model on PC & Mac
I-Link Optional Plugins
• I-Tone
The screening plugin for I-Trap, I-Tone outputs screened 1 bit TIFF files directly from I-Trap. I-Tone uses configurable screening and currently ships with Agfa Balanced, Agfa CristalRaster Screening and Hybrid Screening based on these.
• I-JPEG
The "Soft Proofing" plugin can produce an excellent quality soft proof file in either, browser compatible RGB, or CMYK JPEG format - at any resolution!
• I-Delta
This plugin outputs a job into the Heidelberg Delta format allowing Delta users to integrate the latest version 7 Harlequin Rip into their existing Delta workflow.
• I-PDF
The plugin to add a traps layer to existing PDF files. Send un-trapped PDF files in and get the same PDF file back with trapping applied.
• I-PDFxM
I-PDFxM - this plugin creates a "raster based" PDF/x format file that has lineart at high resolution and images at a lower resolution. I-PDFxM allows you to control the resolution of both the LW and CT layer.