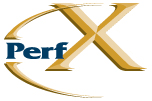 Color Vision
PerfX Color Vision will share soft proofing documents (PDF) so that your clients can see what you see on you monitor. A special control function warns the client if colours cannot be displayed accurately on their monitor. A coloured mask over the soft proof shows the client's monitor limitation in that case.
—PerfX Color Vision allows you to make a colour managed screen capture as well as open the screen capture made by another user.
—PerfX Color Vision Client allows you to open and see the colour managed screen capture.
Features:
• Compatible with any monitor ICC profile
• Captures any image displayed by software
• Saves the screen capture as a PDF file
• Automatically embeds the monitor's ICC profile in the PDF file
• Allows the simulation of the client's monitor preview with its monitor's ICC profile
• Choice of "delta E" calculation method (CIELab, CIE94 and CIE2000)
• Choice of preferred deltaE tolerance value
• Option to mask "out of tolerance" (delta E) displayed colours.
• Displays the curser coordinates (x , y) over the image
• Displays the "delta E" and LCH colour values (before and after) of the colour selected by the cursor.