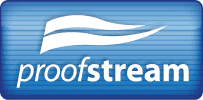 1. Create
With ProofStream giving clients access to any job is simple. Once a job is created, users can upload PDFs or Native files remotely via any web browser: No special software downloads are required and, once uploaded, the file is rendered either internally or by an existing Workflow system, and its contents then displayed in the Browser. Emails are automatically sent to users once the file is ready for viewing.
2. Share
Once a customer receives their email they can then log on via any web browser and start Correcting, Annotating and Approving their job (depending on their 'rights' to do so) using the Virtual Booklet with Sticky Corrections and Notes. It couldn't be simpler. Select Tool, Highlight and Type or Approve. All users in the chain are notified by email in to the status... 24/7/365!
3. Collaborate
Because with ProofStream everything occurs in real time then any user working on the same job gets updated in real time too. If one user has Rejected, placed a Correction requested or Approved a job or page, then all the nominated users receive emails stating where and when this has occurred. Corrections and Notes are updated by a specific Coloured Drawing Pin nominated to the User.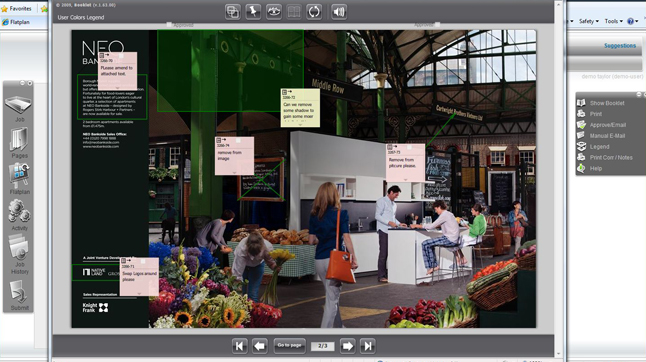 4. Compare
ProofStream allows you to manage multiple versions of the same proof quickly and easily. Simply click the "New Version" function on the proof page to upload a new proof. Users will be notified by email that a new version of the page has been posted. Users can then Compare the new version with the old version, this shows where corrections have been requested and outlining where the changes have been made.
5. Approve
Getting approval is a simple 3-click process. Logon, Select the job, Approve the Page/Job. All actions are logged and data based so that when it comes to invoicing, there can be no disputes to cost or to job content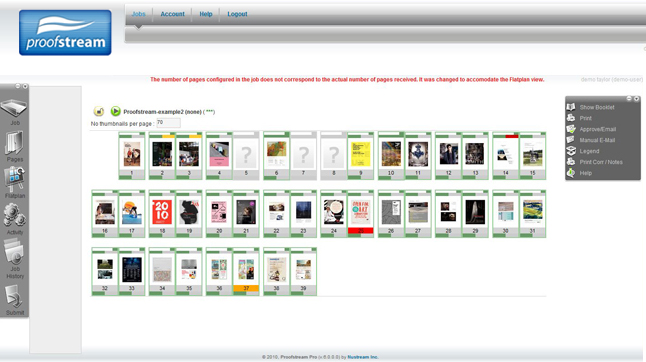 6. Process
Users can be can be made to use simple processes to get the job Approved. If 5 users have the right to Approve a job, then only when the 5th users has Approved then the page or job is Approved overall.
7. Automate
Proofstream has built in FTP and workflow applications. Once a page is approved it can be automatically sent to either your printer directly, to your imposition software or Calibratd proof printer without the need to manually action any tasks. These tasks can be fully configured so you can build an specific workflow to your individual clients needs.
8. Versatile
ProofStream can run as a standalone application or in conjuction with all leading Workflow manufactures providing Rendered data to the end user via a browser (the file you view is the file that is used to go to print). Supported Workflow systems include: Agfa Apogee, Screen Truflow, Harlequin based RIP,s, CGS Oris Normaliser, ArtQuest, Barco/Esko Graphics and Fuji XMF. We can also develop individual connections to most Workflow / RIP applications. Call us to see if we can meet your specific requirements
Important Note: Features described above are based on the Pro version. for exact specifications please see the individual product information (Lite, Standard, Pro & Enterprise) and Options.