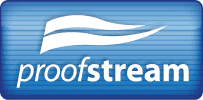 Proofstream Standard
Take all the features and benefits of Proofstream Lite and add even more automation and Pre Press tools by implementing Proofstream Standard.
With 5 more additional file and automation tools than our Proofstream Lite version: Proofstream Standard allows full control of all tasks within your Pre Press department or from remote sites in addition to its file Approval and Collaboration.
Automate Approval of files: once you customer has approved the job, files are automatically delivered to your pre-chosen destination whether its a Print House the other side of the world or in house to imposition, inkjet or CTP devices.
Need to check seperations or the CMYK and Spot Colour makeup of the job? Proofstream's Colour Picker allows you to view and zoom any details of the page so its content can be assured through each element of its design process.
In addition to Page display Correction and Approval, Proofstream Standard can now display Imposition Previews and allow you to check that it backs up correctly using our transparency slider control. Take full output device control by simply selecting through Proofstream's browser. Why send it to an inkjet or CTP to see if it's correct when you can be assured with Proofstream's previews?
Proofstream Standard gives your Pre Press department full control to get all processes of the job right; through powerful decision making tools to producing soft or printed copies. Ensuring the Job is printed correctly: First Time, everytime.